Tips For Riding An Electric Snow Bike
Think again if you're thinking about parking your electric bike for the winter. Your bike can quickly become an electric snow bike. Riding an electric bike is not only efficient, but a winter ride can be exciting too. In some areas, winter lasts a long time. You don't want to be cooped up inside all winter, and you don't want to miss out on cycling. When you have an e-bike, you're more likely to withstand the winter than a traditional bicyclist.
Forget parking your bike for the winter and learn how to commute over snowy streets.
Before any ride, make sure you understand all your bike's functions and controls. You should be familiar with your electric ride, no matter the season. When you ride in freezing weather, you need to take a few extra steps to ensure your safety.
Gear Up
Before you jump in the saddle of an electric snow bike, make sure you have the appropriate gear. First, you need warm clothing. Keep in mind that you will warm up during your ride, so you may want to start a little cooler than comfortable. When riding, your head, fingers, and toes tend to experience cold first.
Wear thick mittens or gloves to prevent blistering from the brisk cold. Without your hands, you cannot steer or brake. Additionally, handguards can block the wind and cold. While you should always wear a helmet, you can add a wool hat beneath it. Try to cover your ears and your face from the blistering wind.
To protect your body, dress warmly in a windproof jacket. When choosing warm clothes, remember how short winter days are. You'll likely be out after dark or before the first light. Wear reflectors on your clothes.
For your feet, you need warm socks that aren't going to be too thick. They should be moisture-wicking socks, combined with a pair of waterproof shoes. Any moisture in your shoes can lead to icy feet.
While you may think about sunglasses as part of your summer attire, they are equally crucial in the winter. Snow reflects the sun into your eyes. Sunglasses or goggles protect your eyes.
Think Traction
An electric bike for snow should have tires that keep traction in mind as the weather cools. Rigid tires make it difficult to maneuver over ice.
Some people choose DIY options to enhance the traction on their bikes. For example, you could put zip-ties around the tires. This is an effective but short-lived way to add traction. Some people choose to screw in studs or screws to the tires. While this helps enhance traction on icy roads, it may not be the most practical idea. Eventually, snow melts, and you will no longer need metal studs. Having metal studs could slow down your e-bike's capabilities.
Consider an electric fat bike for snow when thinking about traction. Fat tires provide more width, so you naturally have more traction. In addition to fat tires, you may want fenders too. Fenders can protect your wheels from snow, salt, and other debris on the road.
Pedal Smart
How you ride matters. Pay extra attention to the road when out for a winter ride. You should be able to see clearly to ride as safely as possible. Be careful when it comes to ice. One wrong move on ice can lead to a severe accident.
When you start your ride, try not to use any motor support at first. You need to get used to riding in the snow without sliding or spinning. Your tires may spin out on the ice when you hit the motor right away. Additionally, lowering the seat allows you to put your feet to the ground when necessary. Likewise, it lowers your center of gravity to stabilize you.
While testing your speed limit can be fun in the summer, take it slow when dealing with wet or icy conditions. If you hit the ice at high speed, you're likely to be in an accident.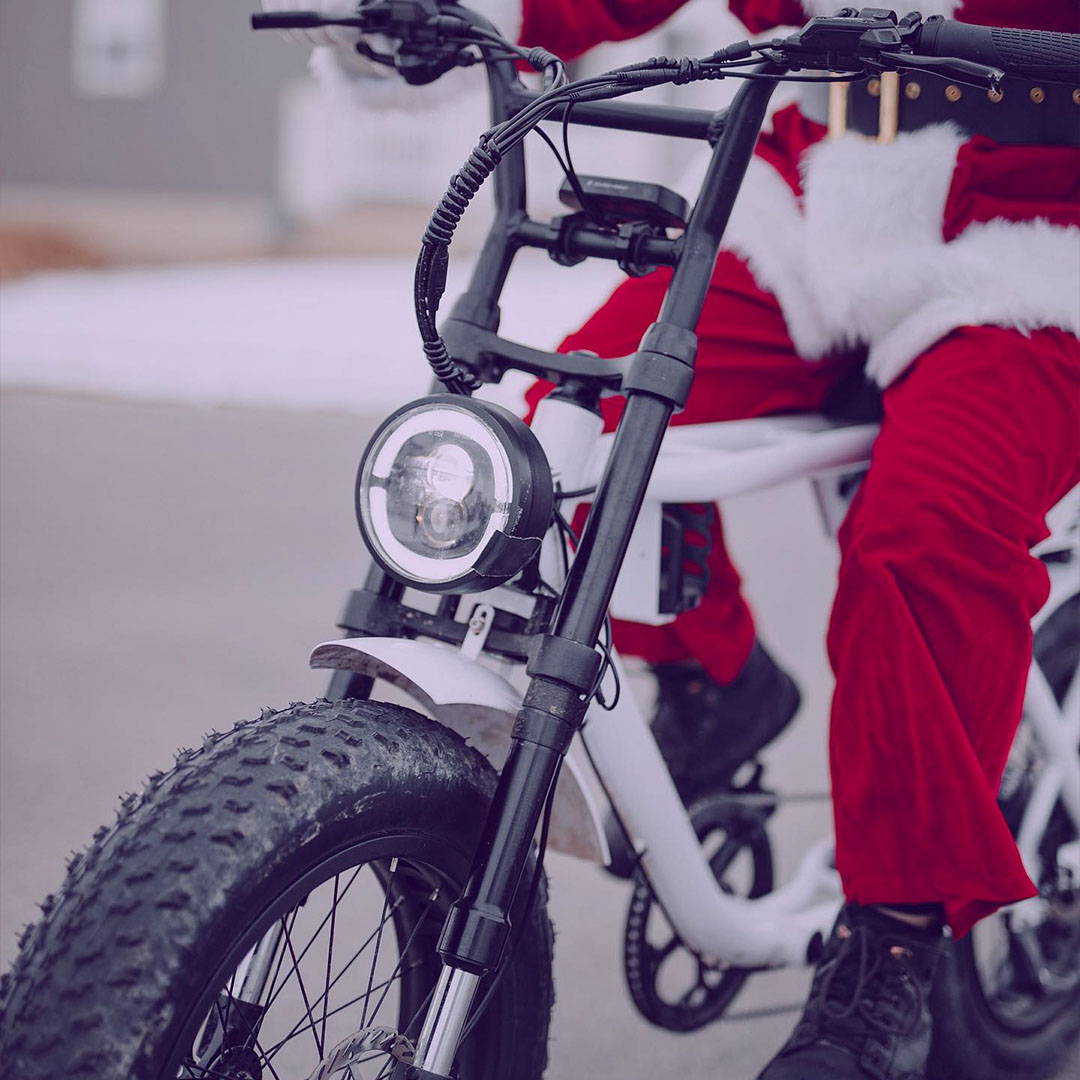 Winter Maintenance for Cold Weather Riding
Riding in the winter months can be a lot of fun, but you need to keep in mind that the cold weather can impact your e-bike. The weather may affect your battery, tires, and frame. However, as long as you take extra care, you can keep your ride performing at its best throughout the winter.
Battery Care
Your battery is one of the most sensitive components in your electric bike. In colder temperatures, it may not maintain its standard capacity. The battery often dies quicker than usual. You need to keep a full charge and expect to cover fewer miles in the winter. If possible, you may want to bring your batteries inside for the evening when you park.
Tire Care
If you're used to cars in the winter, you know that lower pressure makes it easier to cover snowy ground. The reduced pressure increases the traction. Thicker tires with reduced pressure may feel more stable and secure over snowy ground.
Frame Care
When it comes to your bike's frame, you'll want to increase a lot of your typical maintenance. Clean your bike often when the weather is cold and wet. Before washing, let your e-bike dry and use a damp brush to remove dirt. Do not use detergents that may degrade your brake pad lubricant.
Don't Garage Your E-Bike
Winter weather doesn't mean it's time to put up your bike. As long as you know how to tackle winter weather with an electric fat bike for snow, you should be all set. When you focus on gear, safety, and bike maintenance, you'll be ready to commute and explore the outdoors, no matter the weather. For questions about our bikes, contact us at ZuGo Bike today!